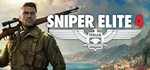 Steam Game Sniper Elite 4 (region of Russia)
After payment, you will be redirected to the site where our robot will send you a friend invitation, accept it and immediately receive the game as a gift.
- Our robot can send the game if you have a "Russia" in the region of the steam store.
- This product can not be placed in inventory, you can only activate the account.
- Delivery is carried out in automatic mode.
02.07.2019 14:24:21
Товар получен, в течении одной минуты.
13.04.2019 10:34:15
всё ок
12.04.2019 19:11:33
Всё отлично! Большое спасибо : )
27.12.2018 18:11:24
Всё ок, всё получил, спасибо)