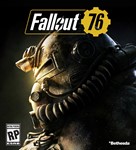 The license key from Fallout 76 will come to your e-mail and will be available in your account at
http://www.oplata.info
immediately after payment.
Activation: Bethesda.net
Region: Russia, Ukraine and CIS countries
Localization: English
Bethesda Game Studios, the award-winning creators of Skyrim and Fallout 4, welcome you to Fallout 76, the online prequel where every surviving human is a real person. Work together, or not, to survive. Under the threat of nuclear annihilation, you'll experience the largest, most dynamic world ever created in the legendary Fallout universe.
16.04.2019 8:01:35
Ключ пришел быстро. Активировался сразу. Спасибо продавцу.
Хочу подарок)
11.04.2019 11:29:33
Code worked like a charm and helpful seller. Thanks
06.04.2019 16:03:13
спасибо, все ок. хочу подарок :)
18.03.2019 17:56:52
Продавец надёжный. Все предельно чисто и без обмана. Рекомендую к сотрудничеству. Качественно и клиентоориентированно!
04.03.2019 17:17:46
Все хорошо
20.11.2018 15:16:50
Спасибо
20.11.2018 14:51:02
Всё круто!
20.11.2018 12:52:20
Хороший продавец . Товар соответствует описанию. Хотел бы получить подарочный ключ.