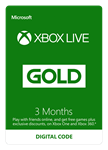 The license key Xbox Live Gold - 3 months will be available in your account at
http://www.oplata.info
immediately after the payment.
Region: Russia, Europe, USA
Activation: Xbox Live
GIFT! Each buyer has left positive feedback after the purchase of the game will receive an activation key gift games on Steam. For gifts, leave a positive review with the comment, "I want a gift».
Build imaginative, awe-inspiring worlds with your friends. Compete in heart-pounding matches that require quick thinking and fast reflexes. Whether it's competitive or cooperative gameplay on your console, Xbox Live Gold takes your game to the next level. Alone you are mighty. With others, you're Gold.
To activate the key:
- Go to
http://www.xbox.com
site;
- Click on the link "Sign In" in the upper right corner;
- Log in your account;
- Go to the "Manage Profile";
- Select "Redeem Prepaid Card";
- Enter the purchased code.
28.04.2019 20:28:43
Очень оперативно! Покупал в первый раз, буду обращаться еще!
28.04.2019 8:46:20
Спасибо всё работает
28.04.2019 0:32:10
Спасибо большое. Цена отличная и код пришёл сразу на почту . Отличный продавец ))
27.04.2019 18:32:40
Все отлично. Хочу подарок
27.04.2019 16:35:31
Все отлично, код активировал! Хочу подарок! )))
26.04.2019 17:38:49
Покупаю у этого продавца ни в первый раз. Всё быстро и чётко. Рекомендую.
26.04.2019 15:26:43
Все круто. Хочу подарок
26.04.2019 6:32:32
Все отлично. Код сработал.
23.04.2019 12:01:48
Все отлично! Рекомендую! Хочу подарок )
23.04.2019 9:48:36
всё работает, спасибо!